World's first desktop sized robotic arm with DC motors
MY ARM is a big size robotic arm with 4 high quality DC motors. Its very easy to build and control this beautiful robotic arm. 4 DC motors provides 4 degree of freedom with 360 degree rotation capability.
LASER cut Super smooth acrylic material is used to make it more attractive, cool and quality product. Complete instruction manual is provided to complete the assembly and basic connection to control this arm.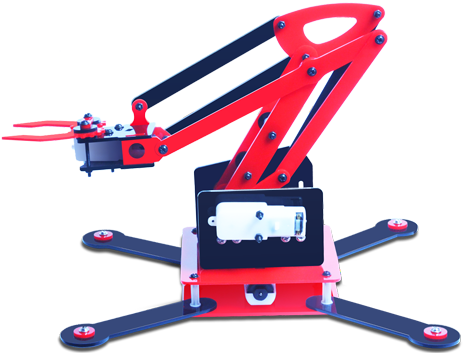 The arm is fitted with 4 DC B.O. Motors so you can directly use 3-9V DC power / Battery and 4 DPDT switches to control the robotic arm manually.
Use 2 motor driver (L293 or L298) with Arduino to control this robotic arm. You can also use motor-shield or other IoT modules to control the arm.
You will able to build your own Robotic Arm with a screw driver with in some minutes. It is a simple robotic arm kit for both beginners and experts. It is a great kit for learning Robotics, electronics and coding in a very interesting way.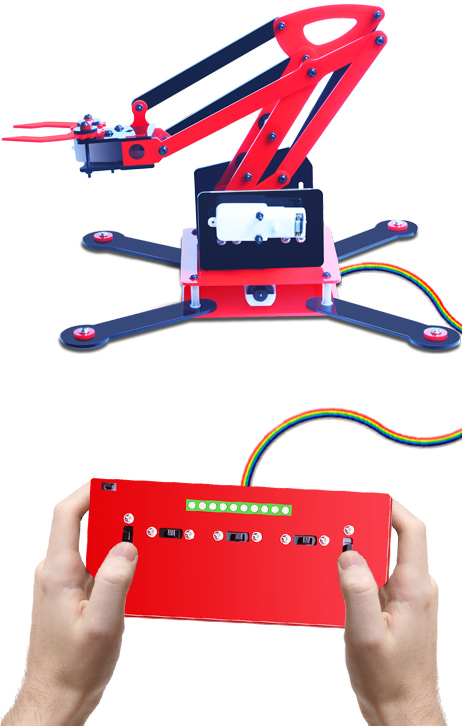 Using Arduino and joystick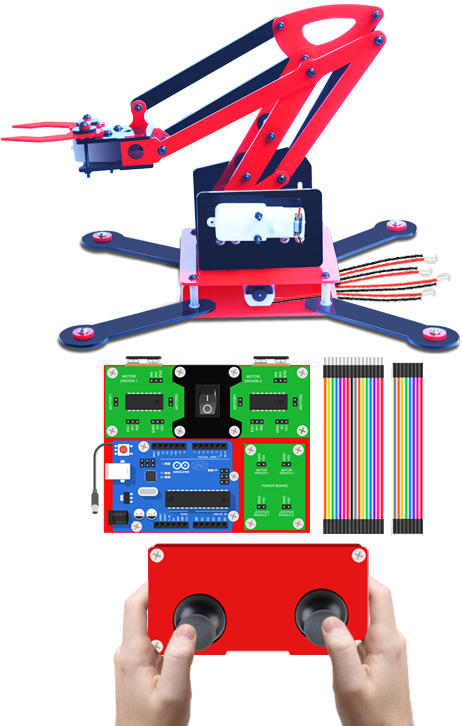 Smartphone  Controlled Arm
Using Arduino and bluetooth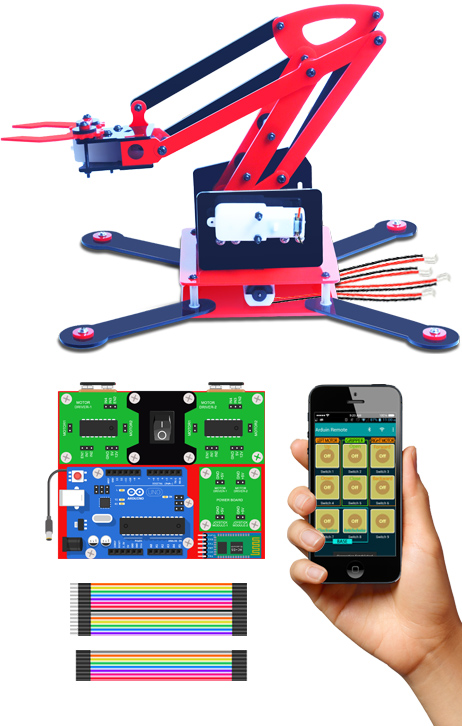 You can also buy the basic 'MY ARM' kit to control it in your own way. The kit includes semi-assembled base part, arm structure, gripper assembly, link plates, nut-bolt pack and complete user guide with step by step instruction to assemble the arm.
The arm uses 4 DC motors, so you can use any method to control these 4 DC motors to control the arm movements. You can use motor-shield, gesture control or other control options.
Excellent product! Comes will all the parts and manual as described. This robotic arm contains 4 DC motors for precise control. All the motors work very well when connected to 9v battery. Quality of plastic used is very good, its sturdy and looks great as well.
Excellent response from seller..! the product was excellent.. its full of acrylic based. not plastic.. package was awesome...!! i am tested this with arduino motor shield.. and its working fine with that..
Perfect option if you want to get started....Awesome. It's simplest yet fully working system. Exactly what we wanted. Decent quality - rather best you get at this price.
A very good product from good company. A very great product, Even their customer support is very good. They helped a lot for making my project work with arduino. It worked like I expected it to overall it was kinda good product